MACHINE HEAD NEWS!
November 1, 2011, posted by FotherMucker99.
The Eighth Plague Tour Oslo style part 10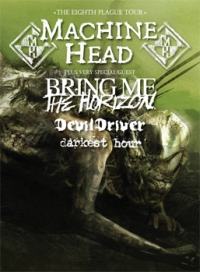 Old is being played live right now.


Ozzy Osbourne - Diary Of A Madman (intro) (PA)
I Am Hell (Sonata in C#)
Be Still And Know
Imperium
Beautiful Mourning
The Blood, The Sweat, The Tears
Locust
This Is The End
Aesthetics Of Hate
Old


Source: TakeMyScars.com
TakeMyScars.com - A Place Dedicated to the Mighty Machine Head!