MACHINE HEAD NEWS!
November 9, 2011, posted by Crumbs.
The Blackening Voted Album of the Century by Roadrunner Records UK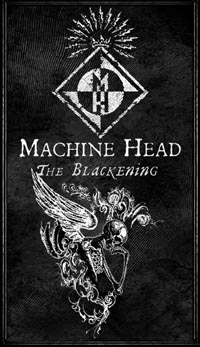 Machine Head's sixth studio album The Blackening has been voted "Album of the Century" by RoadrunnerRecords.co.uk. Unto the Locust ended up on 6th place and Through the Ashes of Empires on #20.

Roadrunnerrecords.co.uk:
Six albums and sixteen years into a career that had already seen them hoisted to the top of the metal tree by their contemporaries, nobody could have conceivably expected Machine Head to pull this one out of their locker. Make no mistake; 'The Blackening' re-wrote the rulebook for what a metal album could be.

Its eight tracks make absolutely no apologies for their radio-unfriendly running times (the shortest track is almost five minutes), and the overwhelmingly huge pool of ideas pushing this into a group populated by only the most seminal metal albums in history. It is absolutely no coincidence the band were being touted as the only possible addition to the Big Four, with no other band in recent years - except, had history taken a different course, perhaps Pantera - having the depth in catalogue that Machine Head evidently have at their disposal. Of course, we know now that the band followed this album up with what is arguably an even better album - some of you certainly think so - but that's a debate for another day. For now, let's just crank this fucker up and enjoy it for what it is - your Album of the Century. Good fucking choice, guys.


Source: Roadrunnerrecords.co.uk
TakeMyScars.com - A Place Dedicated to the Mighty Machine Head!