MACHINE HEAD NEWS!
September 4, 2009, posted by Crumbs
The Black Procession Tickets On Sale Today!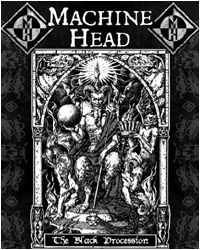 Starting January 23rd, 2010, "The Black Procession" will tear through Europe and into the U.K., alongside brethren in heaviness Hatebreed, Bleeding Through, and All Shall Perish, for what promises to be night-after-night of unbridled power! Machine Head singer/guitarist Robb Flynn says, "After 3 years of touring we are beyond stoked to finish this tour cycle on our own terms, with our show, our stage, our production, our control, and we're lucky enough to bring three of our favorite bands along with us, it's going to be fucking massive!!!" Machine Head have also decided to do things a little differently for the fans this time around and will be playing 2 or more intimate shows in 3,000-4,000-seat venues instead of the massive arena shows fans have grown accustomed to. Adds bassist Adam Duce, "Having done arenas now since The Black Crusade as well as the Metallica and Slipknot tours, we thought it would be killer to give the fans a chance to have a couple different setlists, and mix things up a bit. It's gonna be fun for us to see which gems we dig up!!!"

Tickets for The Black Procession are officially on sale today! See below for the ticket outlet in your area:

Germany: www.eventim.de
Denmark: www.billetlugen.dk
Sweden: www.livenation.se
Holland: www.livenation.nl
Belgium: www.proximusgoformusic.be
France: www.avosbillets.com
Switzerland: www.ticketcorner.ch
Italy: www.ticketone.it
Austria: www.musicticket.at
UK: www.livenation.co.uk


TakeMyScars.com - A Place Dedicated to the Mighty Machine Head!