MACHINE HEAD NEWS!
December 4, 2013, posted by Crumbs.
The Best Metal Albums of 2013, As Chosen by Machine Head's Robb Flynn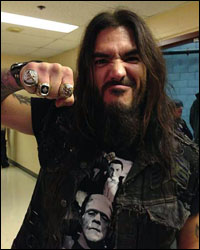 Every year, MetalSucks invites musicians from across the metalsphere to tell us what they thought were the best albums of the year. Usually, we try to make these busy musicians' lives a little easier by not requiring that they write any explanation to go with their year-end list… but Machine Head's most excellently loquacious Robb Flynn simply cannot be contained! And so while the other musicians' lists will be run throughout the week in small groups of four-five, we now present to you Mr. Flynn's choices, along with his extensive thoughts on those choices. We hope you enjoy it! Now take it away, Robb…

These are the records that rocked 2013 for me. Not all of them were released in 2013, more than a few of them were older and I discovered or re–discovered them in 2013. For the first time in a while, I got into some hard rock albums.
This is loooooong. I explain what I like about each album. Feel free-as-a-fucking-freebird to skip over it if you don't have the time.

Check out the list here >>


Source: Metalsucks.net
TakeMyScars.com - A Place Dedicated to the Mighty Machine Head!