MACHINE HEAD NEWS!
December 16, 2014, posted by Crumbs.
TakeMyScars.com Exclusive Clip: "Sail Into The Black" During Soundcheck in Copenhagen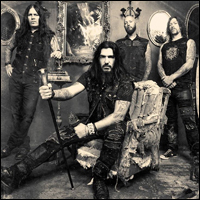 TakeMyScars.com had the opportunity to attend the soundcheck before the Machine Head show at Vega in Copenhagen, Denmark, Saturday November 29th. The soundcheck lasted for over 1 hour and 15 minutes and they did five or six songs including "Eyes of the Dead", "Game Over" and "Sail Into The Black".

Here's a clip from "Sail Into The Black" who wasn't played live at the time but was played live for the first time the following day in Oslo, Norway at Rockefeller on November 30th. Check this space for more clips.

Sail Into The Black

Source: TakeMyScars.com YouTube
TakeMyScars.com - A Place Dedicated to the Mighty Machine Head!