May 16, 2013, posted by Crumbs.
THE GENERAL JOURNALS: THROWBACKTHURSDAY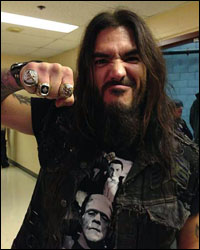 I recently helped my mom move from San Leandro to Pleasant Hill, which is closer to me, warmer and nicer. During the move we found all kind of classic #ThrowbackThursday material. She gave me a handful of old pictures the other day including the one below.

I want to say this picture is from somewhere around early 1985, before my Dad and her split up, and before my mom kicked me out of the house. I already had my Kramer strat shaped guitar which meant that it was after I had my dishwashing / table bussing job at Marie Calendars on Fremont Blvd. near The Hub, and I had worked all summer my junior year to save up for that. I probably hadn't started the heavy partying at that point, probably just weekend house parties with weed, mescaline, and booze.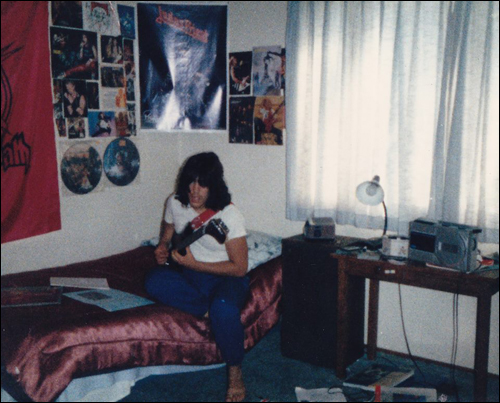 This was the Fremont house we lived in on Kipling Ct. in the Brookvale neighborhood behind Brookvale Elementary and American High the whole time I was in Junior High and High School. As you can see, I was WAY into Judas Preist and Iron Maiden at the time hence all the Priest posters, but I was also getting into the thrash stuff big time. Back then you just couldn't find posters of your favorite thrash bands, so I would cut out pictures from magazines like Kerrang! and Metal Forces. This sounds nuts, but my friend Jim and I would take BART (the local subway system) 40 miles to San Francisco, then walk well over a mile uphill from Market St., up the notoriously gay / junkie filled Polk St. to go to the awesome Record Vault where we would buy bootlegs, imports, magazines and demos of our favorite metal bands. We would then walk the junkie filled / gay mile back down hill, take the 40 mile ride back to Fremont, all just so we could cut out pictures to hang on our wall
...and dream.

If I'm not mistaken the bands hanging up behind me are Judas Priest / Halford, a large red Black Sabbath banner from the cover of Sabbath Bloody Sabbath, Yngwie Malmsteen, Metallica, an Ozzy Osbourne "Mr. Crowley Live EP" picture disc with bonus track "You Said It All", a Witchfinder General "Death Penalty" picture disc with huge-breasted hottie on the cover that I regularly masturbated to. There's pictures of Bruce Dickenson, Hetfield, Kerry King, a hand-drawn Megadeth logo from the first shirt they made, and Accept / Wolf Hoffman (dude was / is such a bad ass!). The Radio Shack "cassette tape player" on the desk and that brown satin bed sheet are priceless, ah the 80's!!


Subscribe to The General Journals: Diary Of A Frontman... And Other Ramblings
http://thegeneraljournals.hosted.phplist.com/lists/?p=subscribe

Visit The General Journals archive:
http://machinehead1.com/topics/diary


Source: The General Journals