MACHINE HEAD NEWS!
May 8, 2013, posted by Crumbs.
THE GENERAL JOURNALS: THE JOURNAL "SACK"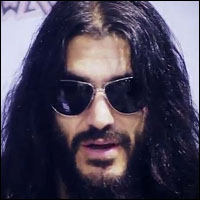 Re: JEFF HANNEMAN

I was in Gulf Shores on a company trip with all the owners and top employees, when my best friend texted me the sad news about Jeff H. I pulled up a picture of Jeff put my phone on the bar ordered a fucking Heineken said cheers to my phone drank and cried. Slayer has influenced me and all the bands i have listened to since 86 (and earlier) and nobody i work with has a fucking clue. I felt so alone. They were all very respectful but i was just overwhelmed and they all new it.

Reign in Blood has always been the Bible for all metal for me. Been waiting so long for him to make a come back. I'm just devastated.

I was at that show International Ballroom in Atlanta, SLAYER and MACHINE FUCKING HEAD crushed that mutherfucker. I am so sad for all his brothers and family.
Rest in Piece with so much respect.

Pour all of your frustrations, stress, anger, and feeling of loss into your new music. Cry and fucking write it will all come together that's what you do.
respectfully

Bobby

Re: JEFF HANNEMAN

Touching tribute Robb - The story about the kid on the bus sounds like one of those classic moments haha! The world of metal is going to be a much sadder place without a talent like Jeff. R.I.P Brother!

Jim

Re: JEFF HANNEMAN

Obviously didn't get to know the guy on a personal level, but goddamn if I wasn't floored at this news. Truly is a sad day for the metal community, but hey! look at it this way! heavens gonna have one helluva houseband when we all get there.

Jason

Re: JEFF HANNEMAN

Just beautifully written. Slayer has been one of my biggest influences with my guitar playing. I shed a few tears today and BLASTED South of Heaven today in my car. 49 is way to young.

Tim

Re: JEFF HANNEMAN
It's sincerely sad that Jeff is gone, A Metal Master no longer with us. My deepest condolences to the Hanneman family & to Slayer, We Metalheads won't let Jeff's memory die

Chris

Re: JEFF HANNEMAN

It's good to hear that people like you, Robb, and Jeff are not emotionally stunted and ego-tripping, but that you do care for your fellow human in moments of desperation. I was never a really big Slayer fan, and hearing that Jeff died shocked me big time, but for you to come out and share as personal a memory as the last one honestly made me cry. I'm reminded by Zakk Wylde's quip on bullies "If a man doesn't fucking bleed and he doesn't cry, you don't trust him. He ain't a fucking man." If anything you showed that Jeff was a man in the truest sense of the word.

Thank You for sharing this with all of us. The world is a poorer place now.

Rest in Peace, Jeff Hannemann

Sebastian

Re: JEFF HANNEMAN

Love how you don't sugar coat shit robb you keep it real , a great loss has happened to the metal world and slayer will never be the same. Rest easy jeff see you on the other side

Sean

Re: JEFF HANNEMAN

The most honest memoir and tributary account that I've ever read. Written for a great musician; by a great musician (that I even had the privilege of working with), and both of whom I grew up listening to and have influenced my own creativity in so many ways. Thank you Robb Flynn. Jeff Hanneman IS SLAYER, and just like so many other great musicians who have passed, his music makes him truly immortal and never forgotten in our hearts and minds. Thank you and R.I.P. Jeff Hanneman

Adam

Re: JEFF HANNEMAN

I was trying to think of something profound to say about this, but all I could come up with is: Fuck! . . . And thanks for sharing Robb. Good shit. I went to the Denver leg of the Bio-MH-Slayer tour you mentioned at the old Mammoth Theater.

Paul

Re: JEFF HANNEMAN

Perfect farewell to a great icon in this theater of thrash, metal, music..... well spoken Robb, respect. All the best for Jeff's family. And a big fuckin hail to all thrasers!!!!!! Keep on listening his work!!

Gábor

Re: JEFF HANNEMAN

Thanks Robb, that's better than any crap from any mag, that's humble truth and insight from a top shelf thrasher. Thanks for sharing ur experience with us. Jeff was the quiet foundation of Slayer, he will be missed!

Tommy

Subscribe to The General Journals: Diary Of A Frontman... And Other Ramblings
http://thegeneraljournals.hosted.phplist.com/lists/?p=subscribe

Visit The General Journals archive:
http://machinehead1.com/topics/diary


Source: The General Journals
TakeMyScars.com - A Place Dedicated to the Mighty Machine Head!