September 15, 2010, posted by Crumbs
Still no sign of Robb Flynn's stolen guitars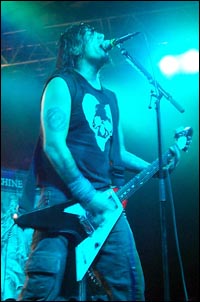 A Sept. 7 residential burglary in Martinez has garnered widespread media coverage due to the homeowners' prominence in the heavy metal music world and his reward offer for the return of two irreplaceable guitars.

Machine Head frontman Robb Flynn, his wife and two young sons moved from Pleasant Hill to the Virginia Hills neighborhood roughly five months ago, seeking a more spacious home for the growing family.

Grammy-nominated Machine Head recently wrapped up a three-year-long world tour in support of their sixth album, including several 2009 dates playing with mega-stars Metallica.

Last Tuesday afternoon, Flynn left his home around 1:30 p.m. to run errands and collect his older son from elementary school.

When the Flynns returned home around 3 p.m., his son asked him why the front door was open.

"We walked in and I realized we had been robbed, our bedroom was ransacked, my tools were on the [living room] floor because they had used them to pry the TV off its corner mount," said Flynn on Monday, estimating a loss of $20,000 to $30,000 in cash, computers, musical equipment, jewelry and sporting goods. As he moved through the rooms, Flynn noticed the thieves had closed the curtains and had seemingly gone through the house methodically taking all high-dollar items.

"I definitely feel we were targeted, it was a team of people and in fact I think I was followed the moment I left the house until I got home because they stopped halfway through for no apparent reason and just dropped everything, like someone alerted them I was coming," said Flynn. "It wasn't a teen-aged smash and grab, they knew what they were doing."

Of all the items taken, Flynn said four of his prized guitars meant the most to him, particularly the instrument he used for the band's first album released in 1994, Burn My Eyes, that launched them on the road to metal stardom.

"Also stolen was a guitar that is priceless to me, a gift from Dimebag Darrell," said Flynn, referring to Darrell Abbott, the founder of celebrated heavy metal bands Pantera and Damageplan, who was murdered on-stage, along with several others, by a schizophrenic gunman at a 2004 concert.

Flynn said Abbott had given him a Washburn "Dimebolt" prototype, as the famed guitar manufacturer had designed a line of electric guitars for Abbott called the Dimebag Signature series.

"I am offering a $1,000 reward for the return of the Black Ibanez strat along with many stickers, a "Designated Drinker" sticker. Additionally I am also offering a $2,000 reward for the safe return of the blue Washburn Dimebolt prototype," wrote Flynn on the band's website. Both of the guitars, as prototypes, did not have serial numbers.

"The next day I put out an [all points bulletin] to every guitar store in Northern California to keep an eye out, and we now have about 1000 fans monitoring Craigslist and Ebay, keeping an eye out. Our fans have been super amazing," said Flynn.

On Friday, Good Stuff Guitar storeowner Danny White said news of the rocker's burglary was "all over the place."

"Guys' gotta be an idiot to walk into a shop close by [to attempt to sell the stolen goods], if they are going to unload it, it will be to a private party or take it out of state or country," said White, who stressed with his background in security, he goes the extra mile to document all consignment or used sales transactions. White mentioned that the Guitar Center in Concord was burglarized last week as well, with the thieves smashing in a door and grabbing three guitars.

Flynn said Monday that until the burglary case was reassigned to Martinez Police officer Leong late last week, he was appalled by the lack of investigational efforts of the MPD.

"I don't feel they did a good job at first. I had to insist that they take fingerprints, and even then they only reluctantly agreed and just fingerprinted the three acoustic guitars," said Flynn, referring to instruments obviously handled by the intruders but left behind. "I didn't hear from the police for the next two days … but then Officer Leong came on board … he's been extremely helpful, he knows [of the band] Pantera," said Flynn.

"But the police [never did take fingerprints] of the doors and windows, it was that bad," Flynn groused.

"This crime was a residential burglary that was an hour cold [when police arrived] … [while] we cannot disclose information about an on-going criminal investigation, I can tell you that an investigator has been assigned who is actively working on tangible leads. Beyond that, I cannot provide any additional details until such time as is appropriate," said MPD Commander Gary Peterson on Monday.

The strangest part, said Flynn, was that his wife's Facebook account was accessed via one of the stolen laptops on Sunday morning.

"Someone began sending messages via Facebook mail to her friends saying, 'hey I just bought this computer,' but it was in Kurdi [a language spoken by the Kurdish people in western Asia and the Middle East]. Our friends tried to bait them by asking 'how much do you want for it' and 'what's your phone number' but they didn't go for it. It's freaky," said Flynn, adding that the many sentimental items of jewelry he had given his wife were most likely already on the way to "one of those send us your gold and we'll melt it down things."

But he's holding out hope that a savvy rocker will notice the unique guitars, and the stickers on them, somewhere.

"The hardest part for us, besides feeling the sanctity of our home has been violated, is that we're paranoid. My wife wants to move and my son asks me at night if the robbers are going to come in and kill me," said Flynn. "I tell him, no, I'm not going to let that happen. On Friday we had the top of the line security installed."
Flynn added that the family's many friends have come to their aid by donating computers.

"They have truly helped us," said Flynn. He asked that anyone with any knowledge of the crime either call the Martinez Police Department or email him at mike@machinehead1.com or the Machine Head Facebook page.