MACHINE HEAD NEWS!
May 29, 2012, posted by FotherMucker99.
Rock am Ring 2012 webstream - UPDATED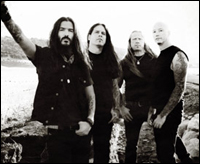 Machine Head's entire set at this year's Rock am Ring festival will be streamed on the internet.

Head over to swr3.de or dasding.de to watch the live video stream.

Machine Head are set to play the Rock am Ring Alternastage from 21:20 - 22:20 CET on Friday, June 1st 2012.

Machine Head's set will not be live-streamed but aired later at 23.55 CET.

Here's the entire streaming schedule for Rock am Ring 2012 (subject to change)

Friday, June 1st 2012
18.00 LAMB OF GOD
18.20 KASABIAN
19.30 CYPRESS HILL
19.50 GOSSIP or GUANO APES
21.20 MACHINE HEAD
22.20 GOSSIP or GUANO APES
22.40 EVANESCENCE


Saturday, June 2nd 2012
18.45 THE TING TINGS
19.25 (until 20.35) TENACIOUS D
21.05 (until 22.20) BILLY TALENT or MAXIMO PARK
22.20 KEANE
23.00 - 1.00 METALLICA
from 1.00 THE HIVES
BILLY TALENT or MAXIMO PARK
PETER DOHERTY


Sunday, June 3rd 2012
18.00 DICK BRAVE & THE BACKBEATS
18.40 DROPKICK MURPHYS
19.50 CALIGOLA
21.00 MIA


Source: rock-am-ring.com
TakeMyScars.com - A Place Dedicated to the Mighty Machine Head!