MACHINE HEAD NEWS!
December 16, 2010, posted by .
Robb Flynn's Top 10 Albums of 2010 at Roadrunner Records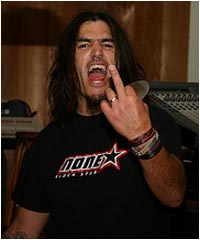 It's been another banner year for music. And while we've personally released some chart-toppers and heart-stoppers in the form of Audio Secrecy, Korn III: Remember Who You Are, Omen, Hellbilly Deluxe 2, and introduced newcomers Hail the Villain, Baptized in Blood, Young the Giant and Taking Dawn among so many other amazing artists, albums and DVD's, our staff and bands alike took a long, hard look at the last 52 weeks of releases to bring you their personal Top 10's. That's right, folks. We've finally arrived at the Best of 2010 party, and we didn't come empty handed!

See what artists like Machine Head, Opeth, Megadeth, Trivium, Grand Magus, Dommin, Porcupine Tree + more, and staff from the US, Canada, Australia, France, and Holland respectively have named their favorite albums of the year RIGHT HERE!


Source: Roadrunner Records
TakeMyScars.com - A Place Dedicated to the Mighty Machine Head!