MACHINE HEAD NEWS!
August 18, 2011, posted by FotherMucker99.
Robb Flynn video lesson on how to play Locust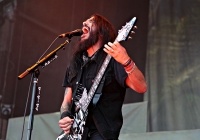 As part of the bonus content from the upcoming October issue of Guitar World three clips have been posted on the official Guitar World site featuring video lessons by Robb Flynn on how to play Locust.

For full print reviews, lesson tabs and more, look for the October 2011 issue of Guitar World on newsstands now, or purchase this issue in Guitar World's online store here.

Thanks to The Frontlines user DAMIAN The MAN for the heads up!


Intro, Chorus, Verse





Pre-chorus, Bridge and 1st Solo Section





Solo Sections 2 and 3, Outro



Source: www.guitarworld.com
TakeMyScars.com - A Place Dedicated to the Mighty Machine Head!