MACHINE HEAD NEWS!
July 14, 2011, posted by FotherMucker99.
Robb Flynn interviewed by 107.7 The Bone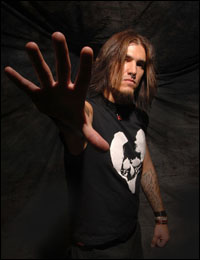 "Metal Zone" host Nikki Blakk of the San Francisco, California radio station 107.7 The Bone conducted an interview with guitarist/vocalist Robb Flynn of San Francisco Bay Area metallers MACHINE HEAD at the second show of the Rockstar Energy Drink Mayhem Festival on July 10 in Mountain View, California.

You can now watch the chat below.








Source: Nikki Blakk youtube
TakeMyScars.com - A Place Dedicated to the Mighty Machine Head!