February 16, 2010, posted by Crumbs
Robb Flynn about "All Shall Perish"-cancellation and bringing a fan on stage in Vienna!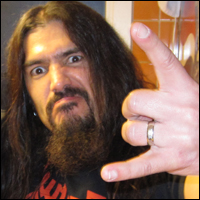 TakeMyScars.com have got an exclusive e-mail interview with Machine Head main man Robb Flynn were he talks about the "All Shall Perish" cancellation, the tour so far, mixing up the setlists and the "incident" in Vienna when they brought a fan on stage to play "Aesthetics of Hate".

TakeMyScars.com:
Can you tell us what happend with All Shall Perish? Why did they pull out of the Black Procession Tour? And I read on some website that Man Must Die will take over the slot. When will they jump on board?

Robb Flynn:
Their new guitarist quit, and it was going to take a while to replace him. They were bummed. We were bummed. They're one of my favorite newer bands. Man Must Die is an amazing band from Scotland who I've been raging to recently. They jump on tomorrow [today, Feb 16] on the first of the UK dates, and will do all remaining dates with us.


TakeMyScars.com:
You're almost half-way through the Black Procession tour, 17 down, 19 to go. Classic question, how's the first half of the tour been?

Robb Flynn:
Really good. This tour has been amazing, if I had to pick the rowdiest, my favorite shows have been Paris, Vienna, and Cologne. All those shows have had a crazy electricity in the air that's impossible to describe. I sometimes forget how fucking crazy our fans are, and dude... our fans are fucking CRAZY!!! We've had some legendary circle pits, life affirming sing-a-longs, and just whacked out people dressed in Rufus outfits, Homer Simpson outfits, Spiderman outfits, "we love you" banners everywhere, dudes running around naked in the pit. It's like a Jack Ass episode sometimes, or Mardi Gras or Carnival where everyone is hammered or high or just free and losing it. It's awesome!


TakeMyScars.com:
You have changed setlist every night and played some really old stuff that you've haven't played in a long time or never played. How's the crowd reaction to that? Have you rehearsed some more old rarites that you can share with us?

Robb Flynn:
We've been really making an effort to be spontaneous on this tour, and we've managed to change the setlist a little bit every night so far, and won't even let the crew know what the set is 'til like an hour before the show. We usually throw out a song to learn either the night before, or that day at soundcheck so that no one gets that too long to rehearse it. It's fun, it keeps you on your toes. Technology helps too, we were struggling to re-learn Trephination at soundcheck, which we haven't played in about 7 years, and I busted out the iPhone-iPod and we listened through that little ass speaker, it was like "oh yeah, that's how that goes". We've debuted a few songs for the first time, like "Spine, and dusted off some rarities like "A Nation On Fire, Bay Of Pigs, Exhale The Vile, Days Turn Blue To Gray and Block" Were working on Bite The Bullet for tomorrow [today, Feb 16], which we've never played live.


TakeMyScars.com:
I've seen video-clips from Vienna when you bring a fan onstage and let him play with you, on your guitar during "Aesthetics of Hate" [watch clip below]. Can you tell us the story behind that?

Robb Flynn:
About 1 song before Aesthetics I noticed a kid upfront with a banner which said, "Let me play Aesthetics Of Hate on guitar Robb. I'm Fucking Serious!!" We both made eye contact, and both laughed it off. So when Aesthetics came up in the set him and a bunch of his friends start screaming "Please". I'm like "dude, you better not be fucking around", he's like "I can do it" So I told security to bring him up. His name was Peter. He did fucking killer!! Knew all my parts, I had to slow him down in the beginning a little, he was playing it a hundred miles an hour. But once the band kicked in, he got it. It was really, really cool. Super fun. It was an incredible moment in an even more incredible show. We brought him and his buddies back after the show to say "hey" and I asked how far the crowd surfed him after he stage-dived back into the audience? He said "All the way to the bar, where 3 people bought him beers, and he proceeded to cry". Amazing stuff!

TakeMyScars.com:
Thank you so much for taking your time!



Aesthetics of Hate with a fan on guitar