January 8, 2013, posted by Crumbs
Robb Flynn Performs At ARF Fundraiser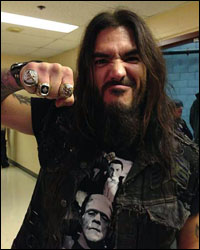 Robb Flynn has posted the following message on the official Machine Head web site:

Life has a funny way of playing out, how seemingly innocuous encounters can take you to places you never thought you'd go.

Flash back to about a year and a half ago... I'm walking through Whole Foods in Walnut Creek talking on the phone to my friend Tom when a lady and her daughter approach me wide-eyed. "Are you fucking Robb Flynn?!" ... "I could be..." They scream with delight and make a big ol' to-do, "oh my god, we're huge fans, I love 'The Blackening', I'm Tony La Russa's wife!" I'm tripped out, they're both super nice, we take pictures, my friend is laughing his ass off, more about the fact that I was swarmed in a freakin' Whole Foods than anything else. So, last February we headline The Warfield in San Francisco, and after the show, who walks in but Elaine, Devon and Tony La Russa. A bunch of my Chicago buddies are there and lose their minds, and hilariously begin sneakin' pictures with him while he's talking to someone else by "leaning in" and snapping a quick pic (which became the legend known as "The La Russa Lean"). My baseball fanatic Dad FREAKS OUT, and Tony L blows my mind when he tells me that I "have so much charisma, he wishes he could bottle it and make his players drink it". WOW!!?? I'm not worthy! We strike up a conversation and I mention that we got our dog Shady from the Animal Rescue Foundation (ARF) in Walnut Creek that he started almost 25 years ago, and he's really stoked about that. He takes down my number and texts me the next day thanking me for the hospitality and for the great show. We've stayed in touch randomly over the last year.

Two days after Christmas I get a voicemail from Tony, he's doing his 22nd annual benefit to raise money for ARF, he wants to invite my wife and I down to both nights, and wants to know if I'd like to come hang out, or even jam a song, and if not, just enjoy the show. The first night is Comedy Night with Dana Carvey, Kevin Pollak, Rob Schneider and John Wing, the second night features some Broadway performers, Rich Hebert (the main star of the Broadway renditions of Les Miserables, Billy Elliot and Saturday Night Fever), The Tommy Igoe Big Band, Jeff Scott Soto (of Yngwie Malmsteen / Trans Siberian Orchestra fame!) jammin' some Queen tunes, a Robin Williams comedy set, and Tony fucking Orlando!! JESUS!? How do you say no? I get back to him on New Year's Eve and and say yeah, and if he's up for it, I can maybe jam a couple of acoustic songs. He's down.

It's an anniversary gift for his wife Elaine, who is a raging metalhead... like, bananas for super-random-obscure-euro-metal kind of metalhead. Elaine La Russa is the real deal folks. So now I'm thinking, "what the hell am I gonna play?" I figure I just did "Die Young" acoustic a couple of weeks ago, I was confident I could pull it off, but what else? I had never performed the all-acoustic version of "Darkness Within" that appeared on the Special Edition of "Unto The Locust"... hmmm, fuck it I'll try that. Only thing is that when I recorded that version, I played the guitar and sang separately, as I'd had about 2 hours to re-interpret it amidst a pretty mean hangover.

We show up to the Comedy Night, and I was telling my wife, "man, I'm so ready to laugh, I need to laugh". We sat next to Elaine, and MAN did we laugh! Every comedian was hilarious, and all for different reasons. At one point I had to massage my face muscles because they were starting to cramp from so much laughing. It was a full-on uncontrollable mescaline-laugh-a-thon flashback. I SO needed it.




The next day I showed up to soundcheck and the first person I see is John (Indo) who was the engineer at the home studio The Grill where we recorded the '93 demo that would get us signed to Roadrunner. He's doing my sound, yes, it's gonna be awesome. Rich Hebert from (as Phil calls it) "Les Mis" is singing some insanely amazing version of a Les Mis tune, him and I are sharing a dressing room and hit it off. The rest of the day is a bit of a blur, including random/cool conversations with Tony La Russa. I invited my Dad down as I thought he'd get a kick out of it and I REALLY wanted him to get some time with La Russa, even though La Russa's Oakland A's beat my dad's beloved San Francisco Giants in the '89 "Battle Of The Bay" World Series, he got some quality hang time in. He was in baseball heaven. I had a total bro-down with Paulie Z and Jeff Scott Soto who did a Queen medley after my set and killed it. And then the time came to do my set for a 40-to-70 year-old audience that I was certain had no fuckin' clue who the hell I or Machine Head was. I cracked a couple jokes about it and definitely broke the ice; I was nervous, surprisingly so, irrationally so. Every time I do these acoustic things I'm nervous, I kept telling myself "dude, you headline festivals in front of 100,000 people, and don't even blink an eye, why are you nervous?" I guess the idea of sitting, just me and an acoustic, and just being in the moment, connecting to the lyrics, connecting to the emotion and the place where I wrote it, and the idea that I couldn't rely on my old bag of tricks is... well, scary. I both like and hate that feeling. I feel like I need to do more of it just to get past this weird... I dunno, fear?

Tony La Russa's intro BLEW ME UP!! Dude RULES. After that intro I could have farted for 10 minutes and people would have at least politely clapped. Did "Die Young" first, went down good, I sang the end a lot better than at the Mitch benefit, and then came time for the debut of the acoustic version of "Darkness", just me and an acoustic, no sing-a-longs, no band to kick in The Heavy; a new version I had never played live. It worked, it totally worked, I nailed most of it, was a little flat in some parts at the very end, but overall it felt good, and I was proud of myself for taking up the challenge.

Flash forward to the afterparty at Willie McCovey's Restaurant in Walnut Creek, and people seemed really impressed that a big, ugly, hairy heavy metal guy could sing, expressed being blown away, a lot of people related to the lyrics. There was a genuine curiosity about metalheads too, a lot of people asked if other people in metal could do this? I told them they'd be amazed at the level of talent and musicianship there is in metal, that, we are what jazz musicians were in the 30's and 50's: an unrespected and misunderstood genre that people will look back on 30 years from now and go "wow, how did we miss that and not give it its due?" I signed autographs and snapped pics all night and it was cool to see the Bay Area Metal Scene getting recognized and appreciated by (for lack of better words) the Bay Area "Social Elite".


Back to the show... the rest of the night after my set just went bat shit awesome. Robin Williams came out and fucking KILLED IT, that dude is fucking funny, with a mouth like a pirate hooker! His bit about his 4-hour Viagra hard-on and his 60 year-old penis shooting one drop of semen that had just two 51 year-old sperms ("just point me to the eggs and I got it from here") had me in freakin' tears. Then headliner Tony Orlando came on and brought the house down. He opened with "Tie A Yellow Ribbon", into "Knock Three Times (On The Ceiling If You Want Me)" and the hits never stopped, he had a KILLER backing band, the keyboard and guitarist (Cole Brothers) were real deal rockers, they did an amazing Beatles medley, and for the last song, "Hey Jude", he brought all of the performers out. Next thing I know the keyboard player hands me a guitar, looks at me and says "it's a lefty". I look down and say "Uh...", he says "just flip it over, it's strung backwards"... "hmmm, ok!" Next thing I know I'm playing guitar on "Hey Jude" with Tony Orlando, then the world flips on its head and outta nowhere, Tony Orlando stops the tune and says we're gonna rock out... suddenly the band kicks into "Whole Lotta Love" by Led Zeppelin!!?? So there I am onstage rockin' out, on a left-handed guitar flipped upside-down, with Tony La Russa on the gourd, Tony Orlando on the vocals, the whole cast of performers, jammin' "Whole Lotta Love"... fuckin' nutzo!!

What a night.

Yes, life has a funny way of playing out, how these seemingly innocuous encounters can take you to places you never thought you'd go.

- Robb

More pictures and clips here >>