MACHINE HEAD NEWS!
January 6, 2009, posted by Crumbs.
Robb Flynn List Favorite Albums, Films, Books and TV-Series Of 2008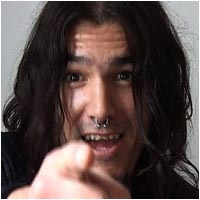 The official Roadrunner Records web site has been updated with top-album picks for 2008 from a number of artists that are signed to the label, including MACHINE HEAD's frontman Robb Flynn.

Robb Flynn's Top Lists of 2008:

Albums:
1. All Shall Perish - Awaken The Dreamers
2. Metallica - Death Magnetic
3. Trivium - Shogun
4. Winds Of Plague - Decimate The Weak
5. Lil Wayne - The Carter III
6. La Coka Nostra - A Brand You Can Trust
7. Slipknot - All Hope Is Gone
8. Whitechapel - This Is Exile
9. Meshuggua - Bleed
10. Bleeding Through - Sister Charlatan


Movies:
The Dark Knight
Zeitgeist
Across The Universe
In Bruges
New Rambo
Zeitgeist: Addendum

Books:
The King Of Lies - John Hart
Third Degree - Greg Isles
The 33 Strategies Of War - Robert Greene The Art Of Seduction - Robert Greene

TV:
Lost
Prison Break
Dexter
Desperate Housewives
The Office
Family Guy


Source: Roadrunnerrecords.com
TakeMyScars.com - A Place Dedicated to the Mighty Machine Head!