MACHINE HEAD NEWS!
August 18, 2011, posted by Crumbs.
Robb Flynn Interviewed By Bloody-disgusting.com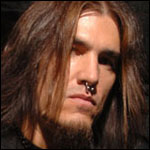 Today brings yet another exclusive video interview from the 2011 Rockstar Energy Mayhem Festival in Clarkston, MI: Robb Flynn, guitarist and vocalist of Machine Head. Robb discuss what the plans are for 2012, what it was like to write from the perspective of a female arsonist, and what horror films he particularly enjoys.







Source: Bloody-disgusting.com
TakeMyScars.com - A Place Dedicated to the Mighty Machine Head!