MACHINE HEAD NEWS!
April 21, 2009, posted by Crumbs.
Robb Flynn Discusses 'Halo' Song; Video Available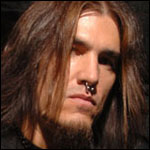 Holland's FaceCulture recently spoke to guitarist/vocalist Robb Flynn of the San Francisco Bay Area metallers MACHINE HEAD about the song "Halo" from the band's latest album, "The Blackening". Watch the four-and-a-half-minute clip below.








Source: Blabbermouth.net
TakeMyScars.com - A Place Dedicated to the Mighty Machine Head!