MACHINE HEAD NEWS!
June 3, 2009, posted by Crumbs.
Robb Flynn Checks In From Luxembourg!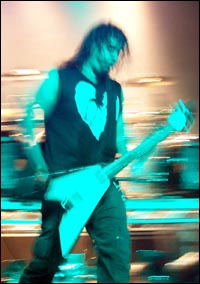 Machine Head is preparing for the summer tour kick-off at Rockhal in Alzette, Luxembourg tomorrow. They arrived yesterday and will have a rehearsal later tonight and it looks like one hell of a rehearsal. Robb Flynn just left a pretty exciting message on the official message board:

"Gonna give it a shot today at rehearsal, but if all goes well, were gonna debut "Wolves" and "Blood of thew Zodiac" for the first time ever. WOO-HOO!!!
No fuckin' promises though!!!!"

To you who will attend at the show tomorrow, bring your cameras!


Source: Frontlines Message Board
TakeMyScars.com - A Place Dedicated to the Mighty Machine Head!