MACHINE HEAD NEWS!
April 2, 2008, posted by Crumbs
ROBB FLYNN: 'I Once Punched Some Kid In The Face For Saying That GARY HOLT Sucked'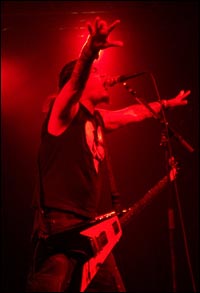 Ben Richardson of the San Francisco Bay Guardian has penned an article focusing on the revival of the thrash metal genrre, led by such scene veterans as EXODUS and TESTAMENT.

Robb Flynn — guitarist for the vintage Oakland thrash band VIO-LENCE and current frontman for local groove-metal crowd-pleasers MACHINE HEAD, who were recently nominated for a Grammy — has witnessed the thrash revival from both sides of the stage. Speaking by phone from his tour bus, he lauds the two bands' success: "EXODUS and TESTAMENT are appealing to an entirely new generation of kids, as they should."

He continued: "If it wasn't for those bands, there wouldn't be a MACHINE HEAD. When I was a kid, EXODUS was my favorite band of all time. 'Bonded by Blood' was like my life. I once punched some kid in the face for saying that [EXODUS guitarist] Gary Holt sucked."

EXODUS and TESTAMENT will continue to tour voraciously throughout the spring and summer, eager to win over new fans with their daunting chops and undimmed energy. According to Holt, their hard work on the road is already paying off. "It's a change for us to look out in the audience and see kids that are 17 or 18 years old," he says. "In the last five years we've been beating ourselves to death on tour and we've acquired a new audience. The old guys all have mortgages and their wives won't let them go to shows anymore."

Read the entire five-page article at this location.


TakeMyScars.com - A Place Dedicated to the Mighty Machine Head!