MACHINE HEAD NEWS!
February 21, 2009, posted by Crumbs.
ROBB FLYNN Reveals Obstacles and Battles Between Killer Tours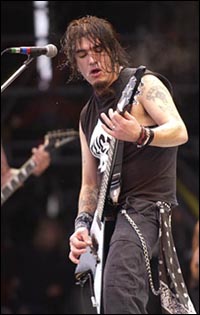 After years of looking up to thrash metal titans Metallica, San Francisco's second most popular thrash group, Machine Head, finally got the chance to open for Metallica on their lengthy Death Magnetic tour. It was, perhaps, the apex of the upward arc that's accompanied Machine Head's 2007 album The Blackening, but it wasn't the only highlight. Since they began touring for the disc, they've performed powerful headline shows, raised eyebrows at outdoor festivals, played direct support to Slipknot in Europe and partied their asses off wherever they went. But while Machine Head have made lots of new fans and friends, and experienced plenty of love onstage, behind the scenes the band has been on the edge of collapse. Click more to hear our podcast with frontman Robb Flynn, who explains what went wrong and what they're doing to fix the Machine.

Here's a short list of what went down: Flynn nearly quit and flew home following endless fights with bassist Adam Duce, guitarist Phil Demmel suffered recurrent health problems that caused him to pass out without warning, sometimes in the middle of a gig; and after one such incident, he awoke to find out his father had died.

In a moment of down time following the end of the U.S. Metallica tour, Flynn talked openly with HeadbangersBlog.com about how he and Duce have begun therapy to work out their differences, the illness that has haunted Demmel since he was in Vio-Lence in the late '80s, Machine Head's upcoming DVD and the incredible power of perseverance.


Source: Headbangers Blogg
TakeMyScars.com - A Place Dedicated to the Mighty Machine Head!