July 21, 2011, posted by Crumbs.
ROBB FLYNN On New CD: "I'm Really Proud Of What We Were Able To Accomplish"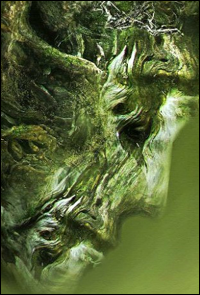 With a highly anticipated follow-up record to 2007's The Blackening due out on September 27th, and a main stage spot on this summer's Rockstar Energy Drink Mayhem Festival, this should be a banner year for Machine Head. In October, the Bay Area metal veterans will be going out for a long overdue tour of South America taking fellow thrash kings Sepultura.

I met with Rob Flynn on the first date of Mayhem in San Bernardino, California to talk about Unto the Locust, the forthcoming album, the Mayhem tour, and other happenings. Fortunately, we went to a spot that was out of the sweltering heat near the empty main stage, the stage where, in a couple of hours, Machine Head would play a short, but scorching set, leading off for Godsmack, Disturbed, and the headliner for the evening, Dethklok.

KNAC.COM:
Unto the Locust is going to be out the end of September. How far along are you now with it?

FLYNN:
Still mixing it. On days off I fly back to Oakland and mix it with my engineer and fly back here and rock it.

KNAC.COM:
I saw a press release that you're going to tour South America in the fall.

FLYNN:
Yeah. Taking we're Sepultura out with us. We're stoked about that, man. Our first time . We went down to Argentina about fifteen years ago, but we just did the one show. So to do Brazil and do it with Sepultura--a band that was a big inspiration for us--is amazing.

KNAC.COM:
You broke out again in a big way with The Blackening a few years ago. That was really good to see.

FLYNN:
We always did well. We always had the fan base. We were selling out House of Blues in L.A. and Irving Plaza in New York and stuff. I think the media really came back around on The Blackening, which was rad. We got this whole new fan renaissance with a whole new generation. It was killer. I think it's like any band. If you're going to evolve and stay relevant you ride the waves that happen and, you know, there's good waves and bad waves. We've somehow managed to ride the waves past the bad waves (laughs).

KNAC.COM:
How long is your set on this tour?

FLYNN:
Thirty-five minutes.

KNAC.COM:
I think maybe two or three of your songs should do it then?

[b]FLYNN:
We got a four-song set (laughs). Whatever. We're super stoked to have this opportunity. We're going to be playing in front of 50,000 people tonight. No complaints here. It could be way worse.

KNAC.COM:
You looked road-worn the last time I saw you, which was probably three years ago. Now you're looking fit and youthful.

FLYNN:
Right on. Thanks, man.

KNAC.COM:
Let's talk a little about Unto the Locust.

FLYNN:
For this record, I really wanted to try and bring in some new stuff to the picture. During the course of The Blackening we had recorded a cover of Iron Maiden's "Hallowed be Thy Name." We agreed to do it, based on the fact that it's one of our favorite songs and because we felt it would be a challenge and it would be a song that no one would really want to take on because it's a pretty fuckin' epic song. I wasn't really certain if I could sing that high and pull it off. I knew I could hit the notes but I wanted it to sound real and heavy. I didn't want it to sound thin and weak, like some singers sound. To my surprise, I actually pulled it off and did it a lot better than I thought I was going to. It really pushed me. Then a friend of the family passed away. It was pretty sad, and I recorded a cover of Heaven and Hell's "Die Young." It was just me on acoustic. Pretty high notes RJD's hitting there at the end. The perfect grit. It's the perfect fucking grit.

KNAC.COM:
Not a 40 or 60 grit, but something smoother, right?

FLYNN:
It's a finer grit. It's not too gritty. I've always respected that guy, but when I really tried to emulate that sound my respect for the man grew like ten-fold. He had what was probably the perfect grit for a hard rock singer. He'd hit those super high notes, but just add that grit to it. It wasn't clean. It still had a throatiness to it that was fuckin' awesome. I challenged myself. I finally got it. I was thinking, "You know, I've been singing fifteen years now. I'm going to start taking lessons." I've taken a few lessons before and I've done warm-ups that my friend showed me. I did some pretty intensive vocal training with Melissa Cross, and then again with a guy named Don Lawrence, like three day/three hour sessions. And at the same time, I started taking classical guitar lessons. I used to be pretty good at it, but I actually wanted to get some theory behind it. To put myself in that place where I feel like a complete retard. "These fingers won't work!" To be back in that vulnerable place where you don't know what you're doing. It was awesome. Like, after all these years of doing this to go and learn...I just fully went into this learning mode. I know that came out with the new record. There's a big, classical element to it. Some of the vocal range is definitely the highest that I've ever hit. I feel like I've really pulled it off and I sang my ass off. I'm really proud of what we were able to accomplish on the record.

KNAC.COM:
Who do you like right now in the newer batch of metal bands?

FLYNN:
I like some of the bands that are on the tour. I'm a big fan of Suicide Silence. I'm a big fan of All Shall Perish. I think they're bringing something new to the genre that they're in and injecting new ideas into it. I keep up on what's going on, but honestly, for the last fuckin' three months...six months, really, I've been in a Machine Head bubble. We just kind of lock ourselves away, we do our thing, and we're not concerned about what's going on in the outside world. We're just trying to make our trip and do it the best we can and put it out there. Somehow we've managed to infiltrate the mainstream with ten-minute and eight-minute songs. Right now, on Sirius, for the second week in a row, "Locust" is number one. An eight-minute and fifteen second song (laughs) is the number one requested for the second week in a row.

KNAC.COM:
Are you still doing your recording at Shark Bite Studios?

FLYNN:
We're at Green Day's place, Jingletown. We got a really nice facility and been there for a couple months.

KNAC.COM:
Are you friends with the guys in Green Day?

FLYNN:
I don't know if you'd say friends. We're acquaintances. Billy Joe [Armstrong] isn't coming in to the sessions or anything and offering advice. I like Green Day. They've always had a very "fuck you" attitude, especially with American Idiot. You know...them doing eight-minute songs, with six movements inside of a song. They're legit, man. Their studio's really cool in a sense . It's got very tastefully done, casual photos of all of their idols. The Beatles, The Clash, The Damned, Dead Kennedys. You go in to the bathroom, there's like mug shots of Martin Luther King. We've been in many, high-end corporate studios with art deco couches you can't sit on (laughs), and it's cool to be in a world class studio that's got a punk rock vibe to it. Dave [McClain], my drummer, and I walked in and Dave was like, "Dude, this looks just like the place where Queen recorded A Night at the Opera. This is amazing!" I had never seen the picture that he had in his head, but I was like, "Yes! We're here."

KNAC.COM:
What place or mood sets the stage for your creativity to come out?

FLYNN:
You never know when it comes. I read the Keith Richards book and he said something like, "All you can be is a vessel and try to stay open and let the vessel be filled." Because you don't have much to do with it. It's just going through you. And as long as you can stay open and channel it then it'll be alright. I think, "I'm going to get totally fuckin' totally stoned and write some awesome lyrics." I'll get high as shit and ...I'll write some rad poetry that I'll go back and read the next day, I'll go, "Fuck, that's rad." But does it become a song? Not necessarily. I've written being completely sober, I've written being high on fuckin' crank and up for a couple days and hammered, and there's no right way or no thing that makes it happen. Sometimes it just happens--for no reason at all. You just start writing. You stumble on to something, some concept, and your brain just fuckin' rolls with it, man. You can't force it, you can't predict it, and you can't go, "Oh, if I take seven shots tonight and smoke a joint it's gonna happen." Dave wrote this riff--a very mellow, Pink Floyd-kind of riff, that I totally loved. I've just been jamming on it and I wasn't thinking it was going to become a song. I just liked the riff. I jammed it one night and kind of hypnotized myself as I played it on my bed, just making up cadences and making up words. Kind of like Johnny Cash, croaky...I was thinking, like, "If I record this, I'm gonna fuckin' drink like a pint of vodka--I don't even smoke cigarettes--and smoke seven cigarettes (laughs) and go in and sing this.

KNAC.COM:
Yeah, some really strong cigarettes, like Pall Malls.

FLYNN:
Yeah, Pall Malls, and go in and sing this. And the next morning I woke up, I dropped my son of at pre-school, and it was February--probably this perfect, miserable day. Just pouring rain and fog pouring over the hills. There's this virus that going around that's killing all the oak trees in my area, and it's winter, so they're all leafless. There are all these dead, dying oak trees everywhere. I pulled over on the side of the road and I'm looking up and there's just dead, fetid branches, and fog rolling down, pouring rain, and I'm like, "Alright, let's see what happens now." And I pulled out my iPhone, which I wrote a ton of lyrics on its notepad , and I just started typing. I literally typed to that cadence of the Johnny Cash, croaky, Pink Floyd jam, and I typed for a half an hour straight, like a stream of consciousness, non-stop session. It was probably the most prolific writing session in my entire life. In a chain I wrote some of the lyrics that I'm most proud of in this half an hour brain dump that I had. Just typing on my phone on this perfect, miserable day, at nine in the morning--sober--after dropping my son off. It's like being in an H.P. Lovecraft poem. Fetid branches and spider webs and fog rolling. And whippoorwills (laughs). That's how it all started off.

KNAC.COM:
That sounds like a surreal setting you described. A place like that would definitely be conducive to you becoming that open vessel of creativity you mentioned earlier.

FLYNN:
Music carried me through the lowest lows and the highest highs. It's given me the highest highs, not even being in a band, but just as a fan. I then went home and I had this other melody in my head, and I wrote this chorus and it became the song "Darkness Within," which is coming up on our new record. It's basically about music as a religion. I really wasn't really raised as a religious person and my family never went to church. Music kind of filled that hole for me. And that's basically what it's about.


Source: KNAC.com