MACHINE HEAD NEWS!
August 5, 2011, posted by FotherMucker99.
Phil Demmel interviewed by metalassault.com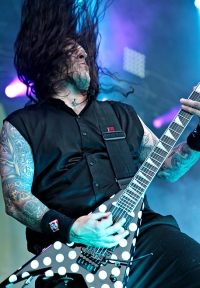 Andrew from metalassault.com talked to Phil Demmel after the second warm up show before the Rockstar Energy Drink Mayhem Festival.

Andrew: It's good to talk to you again, Phil. How was the show last night?
Phil: The show was good, and the crowd was awesome. We're working in a bunch of new gear, so it was like a dress rehearsal for us for the big tour coming up.

Andrew: You guys have been busy recording the new album. How has the process been this time?
Phil: Yeah, we're actually done with the recording. We're mixing right now. I think we have another week and a half before it's done. I'm excited, the songs are great. We want it done, and we want it out.

Andrew: That's awesome. So will you be playing any of these new songs on the Rockstar Energy Drink Mayhem Festival?
Phil: Yeah I think we're going to play one song. We've released an advance mix of the song "Locust", just to give a taste to everybody out there first. We tried it out last night, and we'll probably play that throughout the Mayhem tour.

Andrew: How does it feel to be on this year's Mayhem Festival? It's going to be a month-long tour with a bunch of bands, most of whom you already know.
Phil: Yeah, we're going to be out with friends of ours, and we'll make new friends as well. We've toured with Disturbed, Megadeth and Suicide Silence in the past, but one band I'm really looking forward to seeing is All Shall Perish.

Andrew: The new album is titled "Unto The Locust". What can you tell me about the idea behind the title and the overall lyrical theme for the album?
Phil: Well .. (laughs) .. the word Locust kind of came up because I had a couple of people in my life that had ulterior motives under the guise of purity. They had ulterior intentions, and I'm sure everybody has discovered in their lives when a friend or a business associate or lover, or anything like that, come up to you only to get what they can from you. Like a locust they soak up everything until they see that it's eradicating, and move on to the next resource. This title is about that type of person.

Andrew: That's very interesting. Musically, where do you think it stands in comparison to the previous Machine Head albums?
Phil: I think this is a big departure, not a huge departure but there are elements that we're kind of branching out in. So I think you'll get to hear some of the old elements that have kind of drawn the people that have been part of our fan base, but it's a snapshot of where we are in time right now. That what the past records have been too, just kind of where we are personally, emotionally and creatively.


Read the whole interview here >>>


Source: metalassault.com
TakeMyScars.com - A Place Dedicated to the Mighty Machine Head!