MACHINE HEAD NEWS!
September 1, 2009, posted by Crumbs
Phil Demmel On Why No US Headline Tour!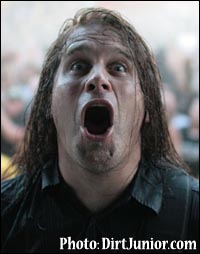 Some of MACHINE HEAD's U.S.-based fans have been wondering why the San Francisco Bay Area metal band has not yet announced a U.S. headlining tour in support of "The Blackening" — despite the fact that the album is now two and a half years old.

In a posting on MACHINE HEAD's official message board, the band's guitarist Phil Demmel addressed the fans' concerns, blaming the lack of a headlining U.S. trek squarely on a timing issue.

Blackening Europe Uk shows: 117
Blackening US Canada shows:155

I was wondering which support slot we should've turned down to go out and HL?

- Lamb of God
- Heaven and Hell
- Hell Yeah (We tried putting something together at this time but could find NO bands to take out, this tour was amazing for us in reaching new markets and fans and set us up for returning and HLing).
- The Mayhem fest
- Metallica
- Slayer/Megadeth

Any suggestions?

Timing is a huge factor in picking tours. I feel bad for the US but everything we're doing is setting up what comes next. We ONLY headlined up until this record and when it came out the biggest names in metal wanted us out with them. FINALLY. If we don't take support slots we're confining ourselves to playing the SAME clubs and theatres forever.

Yeah the setlist was pretty similar for a lot of the runs in the US. We had to put together songs that would be best for people who'd never seen us before. We've been better and cognizant about mixing it up this past year. That will continue.

i understand the frustration. We haven't "forgotten" about NA. We've just been made offers that we ( or ANY metal band) couldn't/wouldn't refuse. Europe/UK is simply more crazy for this band. In a sense the US has been the priority, raising our profile and reaching new fans via support slots was the vehicle to do this.


We've been killing ourselves (almost literally) out on the road just so we can still be a band. Things are done for a reason. We've always been one of the most fan-friendliest metal bands out there and always will be. Hang in there...


TakeMyScars.com - A Place Dedicated to the Mighty Machine Head!