MACHINE HEAD NEWS!
October 31, 2007, posted by Crumbs.
Perth report: "-My Weekend With MH"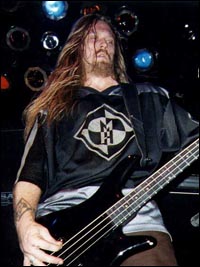 From the nick "SEASONS iN THE ABYSS 007 " @ the offical boards:

This is gonna be long, but anyway...

Wednesday night:
I get a PM from Robb asking if there's anywhere they can practise while they're in Perth, because they hadn't had the opportunity to practise much with Adam at the time. He also asked if there's any venues they could play a small gig at first.

I said that I'm not actually from Perth, so I wasn't relaly in the know with that kind of stuff.

Robb asked if I wanted to catch up and hang out too, but unfortunately I was working all week, so I said I'm free on saturday...

Phil PM'd me a little while after, asking if I could take him to Bon Scotts grace in Fremantle, I said yeah for sure, I could pick him up on Saturday...

Check out the full report with pictures >>


Source: MachineHead1.com Official Boards
TakeMyScars.com - A Place Dedicated to the Mighty Machine Head!