MACHINE HEAD NEWS!
October 5, 2007, posted by Crumbs.
"Now I Lay Thee Down" Video Posted Online!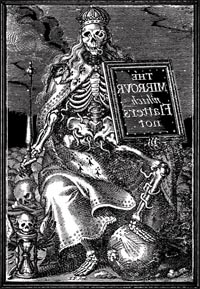 MACHINE HEAD's video for the song "Now I Lay Thee Down" has been posted online.

The clip was shot in February and additional footage was filmed in August. Mike Sloat directed, working in various locations around San Francisco, but mostly in and around the Regency Center, a theater built in 1909. According to Roadrunner Records, "All of the backdrops of the play are original to the theater, close to 100 years old and include ornate images of hell, forest, and more.

As for the plot, the band's label says, "the video is a play about a past time in which a strange and grotesque man, who is shunned by society and outcast, decides that he wants to know what it's like to die. He asks his lover, the only person who cares for him, to take his life. Reluctantly, she does. But then she becomes so distraught and miserable about losing her only love that she decides she must take her own life as well to be with him forever. The play ends with the two lovers together again, at last in the afterlife. The curtain drops and the entire cast bows to the audience."


Source: Blabbermouth.net
TakeMyScars.com - A Place Dedicated to the Mighty Machine Head!