MACHINE HEAD NEWS!
October 7, 2009, posted by Crumbs.
New "diary entry" by Robb Flynn!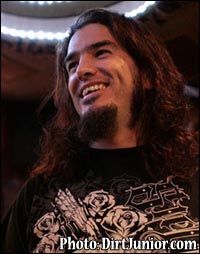 Hey hey hey...

Just wanted to give everyone a quick update. After 2 1/2 years of touring we're (finally) 2 months into a 3 month break, and let me tell you, it's been awesome!!! I've been out camping / wakeboarding a TON, Adam is taking flying lessons and just did his first brief solo flight, Dave's hanging in Alameda enjoying his new Yamaha drum kit (amazing!) and was hanging in L.A. with the Korn dudes and his long time buddy Ross Robinson, and Phil was most recently Best Man at his best friend Shack's wedding. We've also found time to hop into Trident Studios with Juan Urteaga and record a Pantera tune for a b-side. We're doing FUCKING HOSTILE!!! Dave is done with drums (nailed it on the 2nd take!), and I finished guitars yesterday and got vocals in the bag. Phil comes in tomorrow, then Adam, then it'll be mixed and mastered by the end of the week. Mike Sloat has been documenting, so we'll probably have video snippets up when the whole thing gets closer to release.

We also just announced our sole U.S. headline date on Nov 6th in NY, so FUCKIN' A!!! Come make a road trip to N.Y. for some raging metal!!!

-Flynn


Source: Machinehead1.com
TakeMyScars.com - A Place Dedicated to the Mighty Machine Head!