MACHINE HEAD NEWS!
February 4, 2008, posted by Crumbs.
New "diary entry" by Robb Flynn!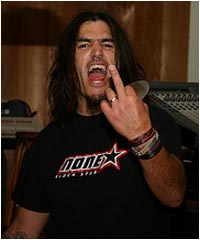 Well,
They say a picture is worth a thousand words, so here's a whole bunch of photos to tell the story of what was one of the most insane 30 days of our touring lives. The highs and the lows, the mundane and the unbelievable, this... was The Black Crusade. All of these photos were taken by our very own Frontliner in arms Henning Gulli who has one of the most unbelievable "eyes" for photography I've ever seen! The dude is friggin' amazing!!

Henning was given unprecedented access to all things Machine Head, from the early morning stage set up, to pre-show warm up rituals, unlimited access to the stage show, including every stage dive, drunken sing-a-long, and even drunker after-party moment. At my request he has also made a page of photos of our very own Frontliners that came out to the shows, including the humongous Frontliner meeting in London. I'll probably do a more in-depth diary soon, but for now, sit back, crack open a beer, make sure you a have a good chunk of time to soak in the enormity of it all, and enjoy the almost 500 photos he captured of the earliest shows in Birmingham and London, to the absurdly drunken last night in Helsinki.

Check out the pictures here >>


Source: MachineHead1.com
TakeMyScars.com - A Place Dedicated to the Mighty Machine Head!