MACHINE HEAD NEWS!
November 15, 2007, posted by Crumbs.
New Video Interview With ROBB FLYNN Posted Online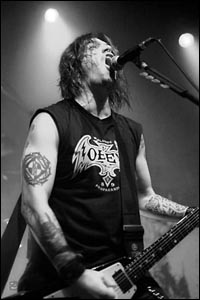 MACHINE HEAD frontman Robb Flynn was interviewed by Australia's Beat TV during the band's recent tour of the country. Watch Beat TV episode 48 below (Note: The Flynn interview begins around the one-minute, 10-second mark).

In a recent interview with Australia's The Metal Forge, Flynn was asked for his opinion on why "The Blackening" has been such a huge critical and commercial success. "To tell you the truth, I'm not really sure," he repied. "I can only speculate at this point. But I do believe the metal scene is really strong right now. I also believe that the band had a lot of momentum going into this album from the success of 'Through The Ashes Of Empires'.

By all standards, 'The Blackening' stands against everything that dictates what should be a successful album. I mean we open the album with a ten and a half minute long song ('Clenching The Fists Of Dissent')! 'The Blackening', overall, has four songs that are over nine to ten minutes long on there, features somewhat controversial lyrics and features edgy artwork. In our heads, it was almost like we were looking at the album as a piece of art.

We definitely weren't expecting it to do the numbers that it has done throughout the world. All I can say is that we're really proud. We busted our asses and worked really hard on this album. We just tried to make a piece of art that would stand the test of time, whether people got it in 2007, or eventually in 2017. It was a musical statement that we hoped would change metal and make a lasting legacy for itself. That was really our only goal.

Numbers, success and chart positions are not the sort of thing we were thinking about when we were writing this album. Those are only long-term projections you can hope for. And clearly, I think that shows. A ten-minute song doesn't stand that much chance of being played on the radio or MTV. In many ways, it's limiting. But in other ways, it's also quite liberating."


Source: Blabbermouth.net
TakeMyScars.com - A Place Dedicated to the Mighty Machine Head!