MACHINE HEAD NEWS!
April 28, 2011, posted by Crumbs
New MACHINE HEAD Record Drops in September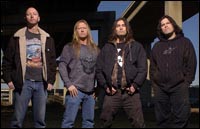 Jo Schüftan of Horns Up Rocks! conducted an interview with guitarist/vocalist Robb Flynn and drummer Dave McClain of San Francisco Bay Area metallers MACHINE HEAD at the third annual Revolver Golden Gods Awards, which was held on Wednesday, April 20 at Club Nokia in downtown Los Angeles, California.

When asked about the progress of the recording sessions for MACHINE HEAD's as-yet-untitled seventh album, Flynn said, "We've been in there for three days. Dave McClain's been laying down the drums, killing it, and we're getting going on the journey. In July we're out on the [Rockstar Energy Drink] Mayhem [Festival] tour, and then the record drops in September."

Regarding what new things MACHINE HEAD fans can expect to hear on the band's forthcoming CD, McClain said, "For the past two records [as well as] this one, we've really been writing for ourselves. And we don't really have a set plan; we didn't really sit down and even go, like, 'We had a bunch of long songs on the last record, we've gotta do a bunch of short ones.' We had some time off and we started itching to get back in and start writing — just whatever was flowing out. And it's killer, man; it's super-exciting. We're all really, really excited about what happened, what came out. We feel like we've got another kick-ass album on our hands and we can't wait for everybody to hear it."

MACHINE HEAD is recording its new album at GREEN DAY's Jingletown Studios in Oakland, California.


TakeMyScars.com - A Place Dedicated to the Mighty Machine Head!