MACHINE HEAD NEWS!
August 29, 2007, posted by Crumbs.
New MACHINE HEAD Interviews To Air Tonight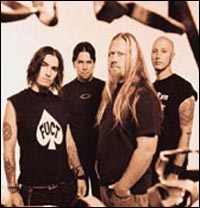 MACHINE HEAD are among the musicians who were interviewed at the Kerrang! Awards in London for this week's "Tinitus" radio show, airing tonight (Wednesday, August 29) between 20.00 CET (2 p.m. EST) and 22.00 CET (4 p.m. EST) on Norway's P3. If you want to hear about JUDAS PRIEST's new album, "Nostradamus", straight from the horses' mouths, what happened to MACHINE HEAD's bassist Adam Duce, how drunk the ENTER SHIKARI boys turned out to be as they picked up two awards and more outrageous stuff, tune in for a special report on the event on tonight's show.

"Tinitus" is Norway's most popular metal show with an average of over 60,000 listeners per week (1.5 percent of the country's population!).

To tune into P3 via the Internet, follow the instructions that are posted on the "Tinitus" MySpace page at this location.


Source: Blabbermouth.net
TakeMyScars.com - A Place Dedicated to the Mighty Machine Head!