MACHINE HEAD NEWS!
April 27, 2009, posted by Crumbs.
New Interview with Phil Demmel Posted Online!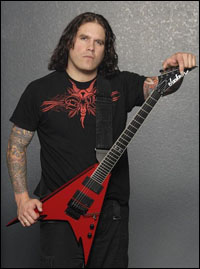 Rockpages.gr did an exclusive face to face interview in Birmingham with MACHINE HEAD'S guitarist Phil Demmel. Heere's an excerpt of this interview:

Rockpages.gr: Are you hungry for a headline show?

Phil Demmel:
Oh yeah man! I am trapping at the bit to it! I wanna play two hours man! I wanna go out there! And I see these guys (Metallica) do it every night… They practice a tune they haven't played in ten years, and they go out and play it. I love that man! I respect the shit out of that! I wanna do that! I wanna play the long set, go out there and play… I'm tired of playing the same six fucking songs for the past two years… I wanna mix it up…

Rockpages.gr: Is there any advantage of being a support act?

Phil Demmel:
Yeah, absolutely, that's why we've been doing it! Playing in front of people that a) never heard of us, or b) have heard of us, heard others, but haven't seen us. Ever since I joined this band we headlined, up until this run, this cycle. And, we were preaching at the converted; people who have already seen us, and they've seen the show. But, now we're playing to all these new fans. This is what you need to do to grow as a band…

You can find the whole interview here >>


Source: Rockpages.gr
TakeMyScars.com - A Place Dedicated to the Mighty Machine Head!