MACHINE HEAD NEWS!
April 9, 2013, posted by Crumbs
Mayhem Memories: Dave McClain tries to remember 2011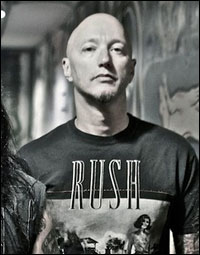 As this summers Rockstar Energy Drink Mayhem Festival draws near, the Machine Head boys recount tales of mayhem and debauchery in a new blog series called "Mayhem Memories".

This week: Dave McClain's after-show party memories, "swords and pajamas, carry him thru the night"

My Mayhem Memory.

Where do I start?! Some of my best times on Mayhem have been the after parties that John Reese (co-founder of Mayhem Festival) has most of the bands put on. He'll give a band a budget and have them come up with a theme AND a special drink (alcohol of course!) for their party.

Just a few of my fuzzy memories have included Disturbed's Oatmeal Cookie shots, RED FANG's Pabst Blue Ribbon Swords (duct taping all your empty PBR cans together to make a sword), Godsmack's pajama party, Suicide Silence's "gangsta" party and of course John Reese and Robb's bday party where John and Mike from Disturbed charged head first into Jagermeister ice sculpture!

Another awesome memory is watching the Metal Mulisha guys do their thing while we're on stage doing our thing. It's amazing playing a show and seeing those guys flying off the ramp doing the most insane motorcycle tricks I've ever seen!

Good times!

Can't wait for another Summer at Mayhem Metal Camp!

Last week: Phil Demmel tries to remember 2011.
http://machinehead1.com/board_posts/mayhem-memories


TakeMyScars.com - A Place Dedicated to the Mighty Machine Head!