MACHINE HEAD NEWS!
September 5, 2007, posted by Crumbs.
Machine Head kicks of The Black Tyranny Tour tonight!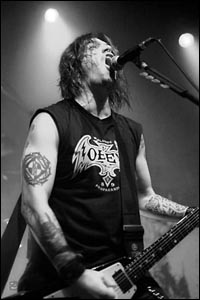 The first show out of totally 56 dates kicks off tonight in Santa Cruz, CA. The Black Tyranny Tour includes around 30 dates with Machine Head, Arch Enemy, Throwdown and Sanctity. Right after that, The Black Crusade Tour begins with one Japanese date and 6 Australian dates. The Black Crusade tour include the bands Machine Head, Trivium, Dragonforce, Arch Enemy and Shadows Fall. Two weeks later the Black Crusade Tour continues in Europe during November and December.

If you attend at any of these shows and want to contribute to this site, please drop a mail with a review, setlist or maybe some pictures.

Let's take some scars!


Source: TakeMyScars.com
TakeMyScars.com - A Place Dedicated to the Mighty Machine Head!