MACHINE HEAD NEWS!
July 24, 2011, posted by FotherMucker99.
Machine Head and crew interviewed on MTV Hungary's Headbangers Ball in 2009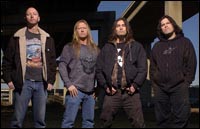 I just found this gem by accident and thought I'd share it with all y'all- haven't seen it before and it was uploaded only a few weeks ago, although it's from their 2009 summer tour where they headlined the Hegyalja Festival in Tokaj, Hungary.


MTV Hungary Headbangers Ball Machine Head special

Source: KellyJenton's youtube
TakeMyScars.com - A Place Dedicated to the Mighty Machine Head!