MACHINE HEAD NEWS!
September 25, 2011, posted by Crumbs.
Machine Head New York City Listening Party Wrap-Up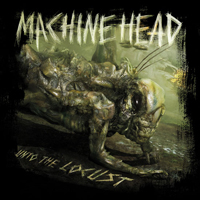 This is what it is all about folks. It's 7AM, I am running on less than three hours sleep and I could care less. Eric and I made a decision to make the four hour drive down to New York City for a very special event, and it was totally an awesome decision indeed. It was one of those once in a lifetime opportunities where you had the chance to mingle with one of your favorite bands in a non-performance environment, and for a room full of Machine Head fans in the city that never sleeps, it was an experience they will never forget.

Machine Head is hosting a series of four listening parties in support of their new album "Unto The Locust," which is set to hit stores this Tuesday, September 27th. The events are/were taking place in Los Angeles, New York City, Chicago and their home town of Oakland, and feature the band getting together with their fans to preview the new album and generally just hang out and have a good time. It is a show of appreciation, and that was abundantly clear as vocalist/guitarist Robert Flynn, drummer Dave McClain and bassist Adam Duce hung around and signed every autograph and posed for every picture request that came their way. But it wasn't just about the little things, it was about making that personal connection. All three men sat around and listened to all sorts of stories from people with varying levels and lengths of time invested into their careers and back catalog, and they showed a true appreciation for the support.

On a personal level, I had an awesome conversation with Robert Flynn. As well over 1000 of you have already read, I had the opportunity to check out the album and review it prior to this event and I had a lot of really cool things to say about it. One person who definitely agreed was Robert Flynn himself, as he liked my review so much he took the time to post it on his personal Twitter page. So when I finally had my opportunity to chat with him and mentioned who I was, I was greeted by a huge hug and a thank you, which to be honest, is pretty crazy as my intention was to be there thanking him for making such an amazing album. I was touched by the fact that he sat there and listened to every word I said and that it meant something to him and that it was genuine. I also know that every single person that spoke with any of the guys in the band on this evening left with the exact same experience, and really, that's what it is all about.

They played "Unto The Locust" top to bottom twice through, and after talking to some of the people in line before the show and watching their reactions as they heard the album, I could tell that this was an old fashion "listening to the record for the first time" for most of them, and to see other people experience it for the first time was really cool.

Click here for the full story with video clips and pictures >>


Source: Shockblastmedia.com
TakeMyScars.com - A Place Dedicated to the Mighty Machine Head!