MACHINE HEAD NEWS!
September 16, 2009, posted by Crumbs.
Machine Head Leipzig Show Moved to Dresden?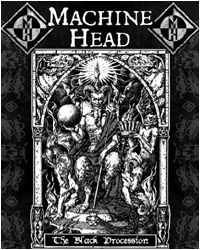 TakeMyScars.com have got a few mail about the Machine Head Leipzig show during The Black Procession Tour on February 13. The tickets is not yet on sale and that it looks like the show is gonna be moved to Dresden.

Michael mailed:
"-Today i've called the "Haus Auensee" in Leipzig and they said that the date is reserved but not yet booked. So I called the venue "Alter Schlachthof" in Dresden and they said that they had booked Machine Head for this date".

Nothing has been confirmed from Machine Head yet so we'll just have to wait and see if this rumour is true or not.


Source: TakeMyScars.com
TakeMyScars.com - A Place Dedicated to the Mighty Machine Head!