April 1, 2015, posted by Crumbs.
Machine Head Announce Headlining South American Tour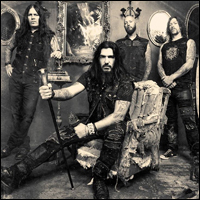 Machine Head in cooperation with Matrix Entertainment are proud to announce "AN EVENING WITH MACHINE HEAD". No support bands, no short festival slots, just Machine Head for 2 plus hours of bone-crushing metal anthems, life-affirming sing-a-longs, and haunting atmospheric pieces.

Hot off the heels of their most successful North American tour to-date (also done as "An Evening With") Machine Head are bringing their phenomenal live performance to South America, on a headline run across several countries, performing as "An Evening With Machine Head", with no support bands, just 2 plus hours of crushing metal. Comments lead vocalist / guitarist Robb Flynn "Having only done one tour of South America back in 2011, we cannot tell you how excited we are to get back down and rage with the maniacs of Brazil, Chile, and Argentina, and it will be our first time EVER playing in Mexico, Bogata, Montevideo, and the stories are legendary about how crazy these audiences are!! This is going to crush!!!"

Machine Head are a band operating at the absolute peak of their collective powers, as exemplified by their new album Bloodstone & Diamonds debuting at a staggering #12 on the "World Charts" a phenomenal achievement for a metal band with no mainstream radio airplay, and in a week that saw the release of blockbuster albums by Foo Fighters, Taylor Swift, and Pink Floyd, which also shows the loyalty of their fans, affectionately know as "Head Cases"!

In regards to the band's decision to only headline for this touring cycle as well as no longer play festivals, Flynn elaborates:

"We're not trying to have a good time with a bunch of people who don't know who we are. If Machine Head throws a party, big or small, we don't want a bunch of 'strangers' there. This is about us and you guys, the die-hards! The Fucking Head Cases! We don't care about the others out there. We're here and we're not going anywhere, if those people want to be a part of this, they know where to find us. So for the time being, and maybe 'forever' we're done reaching out for them."

In closing Robb added, "I'd like to give a HUGE shout to the website https://www.HeadbangersLatinoAmerica.com for helping us see how many great places there are to play down there, and to our Brazilian Facebook fan page https://www.facebook.com/machineheadbrasil for inspiring us to get down there!!"

VIP "Upgrade" Packages will be on sale at https://www.machinehead.soundrink.com
**PLEASE NOTE: you will still need to pick up a concert ticket separately through your local concert ticket agency**
VIP "Upgrade" Packages include a meet and greet with the band, group photo with MACHINE HEAD, poster flag, laminate, and MACHINE HEAD kookie. In addition, everyone that purchases the VIP experience will be entered in a drawing to win an autographed Bloodstone & Diamonds electric guitar!

The return of the mighty Machine Head to South America, their first headline tour since 2011, is sure to be a memorable experience, and is likely to be one of the best tours of the decade! Do not miss this one, Head Cases!

Confirmed dates are as follows:

May 25 Guadalajara, Mexico - C3
May 27 Monterey, Mexico - Cafe Iguana
May 29 Mexico City, Mexico - Circo Volador
May 31 Bogota, Columbia - Teatro Metropol
June 2 Santiago, Chile - Teatro Cariola
June 4 Buenos Aires, Argentina - Teatro Flores
June 5 Montevideo, Uruguay - Music Box
June 7 Sao Paolo, Brasil - Via Marquez

TICKETS WILL BE ON SALE LATER THIS WEEK.


Source: MachineHead1.com