MACHINE HEAD NEWS!
October 8, 2011, posted by Crumbs.
Machine Head Announce Album Launch Club Nights in the UK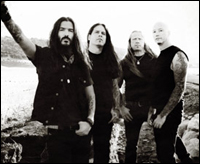 MACHINE HEAD have announced a series of launch parties in association with Scuzz TV, Attitude Clothing and Jackson Guitars with prizes being given away at each of the club dates. You can celebrate the launch of Unto The Locust at the following club venues:

Friday 21st October
Aberdeen – Rock Night @Korova Klub
Glasgow – Cathouse Hull – Komrades Rock Night @Pozition Club
Leeds – F*U*E*L @The Met
Lincoln – Rock Night @Sugarcubes
Sheffield – Drop @Corporation

Saturday October 22nd
Birmingham – Eddie's Camberly – R.O.C.K.@Agincourt
Cardiff – Bogiez Rock Bar & Nightclub
Liverpool – Krazyhouse Manchester – Satan's Hollow
Newcastle – ROCK @L.Y.H. Bar Newcastle
Nottingham – Hey Hey Hey @Rock City

Monday October 24th
Ipswich – Bounce @The Switch

Wednesday October 26th
London – Nasin @The Borderline


Source: Roadrunnerrecords.co.uk
TakeMyScars.com - A Place Dedicated to the Mighty Machine Head!