MACHINE HEAD NEWS!
January 12, 2010, posted by Crumbs.
Machine Head Adds Japanese & Australian Dates!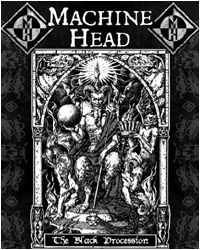 After storming across Europe and the U.K., Machine Head's "The Black Procession" Tour will hit the shores of Japan and Australia culminating 3 incredible years of touring in support of Machine Head's highly acclaimed, Grammy-nominated album "The Blackening". Continuing the assault with Machine Head are Hatebreed and Bleeding Through, with Crossfaith opening in Japan and Emmure opening in Australia. The dates added are as follows:

Tue 16 Mar - Japan, Tokyo - O East
Wed 17 Mar - Japan, Tokyo - O East
Thu 18 Mar - Japan, Osaka - Quattro
Mon 22 Mar - Australia, Perth - Metropolis
Wed 24 Mar - Australia, Adelaide - The Barton
Fri 26 Mar - Australia, Melbourne - Festival Hall
Sat 27 Mar - Australia, Sydney - Luna Park
Sun 28 Mar - Australia, Brisbane - River Stage

After touring through the world with Slipknot and then Metallica, "The Black Procession" provides Machine Head with the opportunity to put on a full headline show before closing out their epic tour cycle. Drummer Dave McClain exclaims "It's going to be awesome to get out there and rock a full set, to mix it up night after night, and be able to do things 100% our way! It's really just dawning on us that after almost 3 years of touring on "The Blackening" that "The Black Procession" will be the final tour of this cycle... but instead of being in wind-down mode, we're super excited to get out there and crush it one last time! Our fans have been asking for a full-fledged Machine Head tour and we are ready to bring it!"

Singer/Guitarist Robb Flynn adds "It's been an amazing album cycle and we are thankful for the relentless support we get from our fans. We are all well aware of the fact that the touring market around the world is in a tough spot due to economic conditions, and it's great and humbling to be able to actually add dates to this tour in spite of that fact. We can't wait to see all you crazy fuckers out there!"


Source: http://machinehead1.com
TakeMyScars.com - A Place Dedicated to the Mighty Machine Head!