MACHINE HEAD NEWS!
July 19, 2014, posted by Crumbs.
Robb Flynn Says New Album Is 'Heavy' And 'Dark' With 'More Of A Rock Vibe'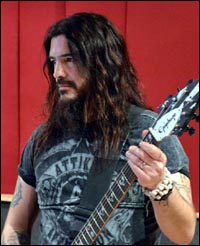 Guitarist/vocalist Robb Flynn of San Francisco Bay Area metallers MACHINE HEAD spoke to U.K.'s Metal Hammer magazine about the progress of the recording sessions for the band's eighth studio album, due before the end of the year via via Nuclear Blast Entertainment.

"There's definitely a lot of urgency on this record," Flynn enthused. "It's a really heavy record arid there's a dark and evil vibe to a lot of it, but I feel like there's more of a rock vibe in there too. It's stripped down at times, and I like that. I think that sense of urgency has carried over from the demos we did, which were all done very quickly and spontaneously. We tried to keep that spontaneous vibe on the album."

He continued: "At one point we started getting really anal on the tracks and spending tons of time on stuff, and we'd listen back and say, 'You know what? This doesn't have the vibe of the demos.' The demos were so fuckin' frantic, so we changed our mindset and now it's a little bit looser. Some of the guitar takes are basically live. Often, 40 or 50% of a song came from a spontaneous, live take and that's killer! It adds energy and makes the songs feel alive."

Full story here >>


Source: Blabbermouth.net
TakeMyScars.com - A Place Dedicated to the Mighty Machine Head!