MACHINE HEAD NEWS!
November 29, 2012, posted by Crumbs
MACHINE HEAD Triumphant In Return To Stage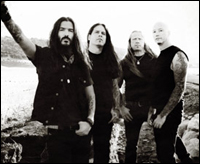 Hurricanes, hernias, chest infections, bus breakdowns and Disney bans aren't enough to stop MACHINE HEAD, whose raucous hometown set Monday night in front of a packed Fox Theater in Oakland, California reiterated just how driven and dedicated the band is to their fans and the music.
A mere 12 days removed from surgery to repair a double inguinal hernia and fighting a wicked chest infection, frontman Robb Flynn was back in action Monday night as MACHINE HEAD returned to the DETHKLOK, ALL THAT REMAINS and THE BLACK DAHLIA MURDER tour to annihilate their hometown for the first time since their legendary set at the Henry J. Kaiser Arena in 1995 while touring with SLAYER.

You can check out video from the show below, and be sure to catch MACHINE HEAD at one of the 10 shows remaining on this tour.


TakeMyScars.com - A Place Dedicated to the Mighty Machine Head!