MACHINE HEAD NEWS!
December 8, 2007, posted by Crumbs.
MACHINE HEAD Plays Zurich Concert Despite Family Loss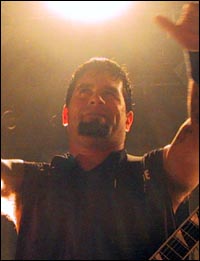 MACHINE HEAD guitarist Phil Demmel's father passed away a few hours before the group's concert Friday (December 7) in Zurich, Switzerland. During the band's performance, frontman Robb Flynn dedicated the song "Descend the Shades of Night" to everyone who has lost someone important in his/her life before adding that MACHINE HEAD had just lost a member of its family and informing the crowd that Phil's dad had died. (See video footage below.) Demmel reportedly cried while playing the solo to the track, which Flynn had previously described as "an eight-minute elegy on death."


Source: Blabbermouth.net
TakeMyScars.com - A Place Dedicated to the Mighty Machine Head!