MACHINE HEAD NEWS!
December 10, 2007, posted by Crumbs.
MACHINE HEAD Confirmed For DUBAI DESERT ROCK FEST, March 7-8, 2008!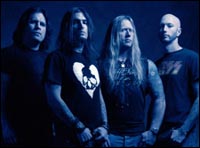 According to Phride.com, MACHINE HEAD has been confirmed for next year's Dubai Desert Rock Fest, set to take place March 7-8, 2008 in Dubai, United Arab Emirates.

MACHINE HEAD's appearance at the festival will mark the first time a band has played the event twice (the San Francisco Bay Area metallers previously took part in the 2005 edition of Desert Rock).

Other artists scheduled to perform at Dubai Desert Rock Fest include KORN, who will headline the first day of the festival, and Marky Ramone, the former drummer of the iconic punk group the RAMONES.

Six more bands will be announced during the coming weeks.


Source: Blabbermouth.net
TakeMyScars.com - A Place Dedicated to the Mighty Machine Head!