MACHINE HEAD NEWS!
April 4, 2012, posted by Crumbs.
MACHINE HEAD Biography Due In October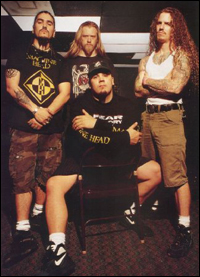 Omnibus Press has set an October 15 tentative release date for "Inside The Machine". The world's first MACHINE HEAD biography is being written by British rock author Joel McIver — whose 20 books to date include "Justice for All: The Truth About Metallica", "Crazy Train: The High Life And Tragic Death Of Randy Rhoads", "Glenn Hughes: The Autobiography", "To Live Is To Die: The Life And Death Of Metallica's Cliff Burton", "Overkill: The Untold Story Of Motörhead", "The Bloody Reign Of Slayer" and "Unleashed: The Story Of Tool".

The official book description: "Over 17 years and eight albums, heavy metal band MACHINE HEAD have sold millions of units, earned a Grammy nomination and won personal awards from various magazines. The story is a classic 'rise, fall and rise again' scenario — they exploded onto the metal scene in 1994, enjoyed a successful string of albums and then lost their way in the nu-metal era. Now they are in the middle of one of metal's most acclaimed comebacks. Joel McIver has interviewed all the band-members several times and has a unique insight into their rollercoaster story, which includes alcohol addiction, inter-band brawls and therapy, sackings, near-splits and two decades of the heaviest music known to man, delivered all over the world."


Source: Blabbermouth.net
TakeMyScars.com - A Place Dedicated to the Mighty Machine Head!