MACHINE HEAD NEWS!
January 14, 2012, posted by Crumbs.
It's Time To Vote For Machine Head!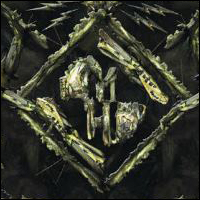 ANTHRAX VS. MACHINE HEAD – CAGE MATCH
Anthrax earned an impressive victory over Ministry in yesterday's Cage Match. Can they do it again against none other than Machine Head?

Anthrax are set to go on tour with Testament later this month for a new leg of U.S. shows. The co-headlining trek kicks off Jan. 22 in Las Vegas; go here for a full list of dates.

Anthrax aren't the only heavy metal act embarking on a big tour this winter. Machine Head are also hitting the road for a North American trek, which kicks off in Denver this Sunday (Jan. 15). Machine Head take today's Cage Match by storm with their single 'Locust' off of their latest album 'Unto the Locust.' Check out Machine Head's awesome video for the single.

Will Anthrax stay 'alive' or will Machine Head unleash the 'locust' on their way to victory? Get in on the action by listening to both tracks and voting for your favorite:

VOTE HERE >>


Source: Loudwire.com
TakeMyScars.com - A Place Dedicated to the Mighty Machine Head!