MACHINE HEAD NEWS!
April 19, 2014, posted by Crumbs.
It's Record Store Day! Grab Your Copy of Killers & Kings Today!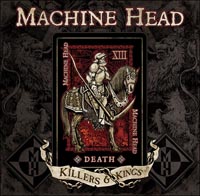 Machine Head will be releasing a 10 inch vinyl with the A-side containing the "demo" version of a new song, "Killers & Kings." The B-side will be a cover version of one of Machine Head's favorite bands "Ignite", the songs "Our Darkest Days / Bleeding" from the album "Our Darkest Days."

Record Store Day is an internationally celebrated day observed the third Saturday of April each year. Its purpose is to celebrate the culture of the independently owned record store.


Source: Recordstoreday.com
TakeMyScars.com - A Place Dedicated to the Mighty Machine Head!