MACHINE HEAD NEWS!
January 21, 2009, posted by Crumbs.
'Guitar Hero: Metallica' Pre-Orders From GameStop To Include Free Extra Foot Pedal!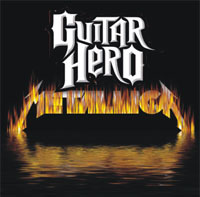 If you pre-order the Guitar Hero: Metallica game from GameStop, you will receive a free extra foot pedal for your drums as well as splitter to use both pedals at the same time. Online customers will have their foot pedals delivered with their copy of the game, while in-store customers can pick them up on the day of the game comes out.

According to the official METALLICA web site, a March 29 release in the U.S. has been set for Guitar Hero: Metallica on the Xbox 360 and PlayStation 3 platforms. The game's arrival for PlayStation 2 and Nintendo Wii will most likely come in early May, around the same time the game is issued in Europe. As previously reported, METALLICA is only the second act to get its own version of Guitar Hero, following last year's AEROSMITH game.

Guitar Hero: Metallica will include 28 METALLICA songs, along with tracks from MACHINE HEAD, SLAYER, FOO FIGHTERS, ALICE IN CHAINS, and others.

The game will allow players to perform in either single instrument or band mode, in a variety of settings and stages.


Source: Blabbermouth.net
TakeMyScars.com - A Place Dedicated to the Mighty Machine Head!