MACHINE HEAD NEWS!
April 1, 2013, posted by Crumbs
Former FEAR FACTORY Bassist Auditioning For MACHINE HEAD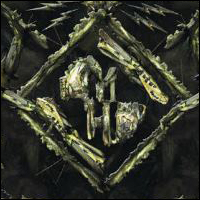 Christian Olde Wolbers, who handled the bass duties in FEAR FACTORY for nine years (1993-2002) and then assumed the role of guitarist in a revamped version of the band from 2002 until 2008, has posted a video clip of him "auditioning" for the vacant bassist slot in MACHINE HEAD.

MACHINE HEAD is holding public auditions to find a temporary bass player. The San Francisco Bay Area-based band is seeking a musician to perform with them on this year's Rockstar Energy Drink Mayhem Festival tour.

To find a temporary bassist for the duration of the Mayhem festival, MACHINE HEAD turned to the nearly 800,000 fans on their Facebook page, asking interested parties to post a video clip of them singing and playing bass along to three tracks: "This Is The End", "Halo" and "Beautiful Mourning".

Once the band has narrowed down potential candidates, they will hold tryouts in person at a to-be-determined location.

Check out the audition video on Facebook >>


TakeMyScars.com - A Place Dedicated to the Mighty Machine Head!