MACHINE HEAD NEWS!
September 21, 2014, posted by Crumbs.
First Single From Bloodstone & Diamonds Revealed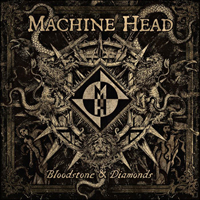 Machine Head look to have chosen the track "Now We Die" to serve as the first single from their eight full-length album, "Bloodstone & Diamonds". A music video for the track is reportedly in the works. Given past updates from the bands Robb Flynn, this is one of the songs to feature a string arrangement.

Machine Head release their 8th album "Bloodstone & Diamonds" on Nov 7th - EU, and Nov 10th in the U.S. and U.K.

Track listing is as follows:

MACHINE HEAD - BLOODSTONE & DIAMONDS

1. Now We Die
2. Killers & Kings
3. Ghosts Will Haunt My Bones
4. Night Of Long Knives
5. Sail Into The Black
6. Eyes Of The Dead
7. Beneath The Silt
8. In Comes The Flood
9. Damage Inside
10. Game Over
11. Imaginal Cells (Instrumental)
12. Take Me Through The Fire


Source: www.theprp.com
TakeMyScars.com - A Place Dedicated to the Mighty Machine Head!