MACHINE HEAD NEWS!
October 18, 2008, posted by Crumbs.
First Footage from 'Roadrunner United The Concert' DVD!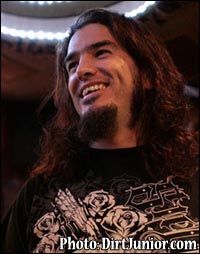 Roadrunner Records will release the "Roadrunner United The Concert" DVD on December 9, 2008. The double-disc set hits shelves almost three years to the day after the now-legendary concert held at the Nokia Theater in Times Square in New York City on December 15, 2005. The show — which celebrated the release of the groundbreaking album "Roadrunner United: The All-Star Sessions" featuring 56 musicians from 44 different bands spanning the label's entire 25-year history — enjoyed a cult, "You had to be there!" status in the metal and hard rock scenes and now Roadrunner is giving the label's diehard followers a chance to witness the event for themselves.

"Roadrunner United The Concert" captures the festive intensity of the evening. A house band, featuring members of core Roadrunner acts such as SLIPKNOT, SEPULTURA and MACHINE HEAD, performed hits and classics culled from the entirety of the Roadrunner catalog. Some of the highlights included SLIPKNOT/STONE SOUR vocalist Corey Taylor performing "Bother" with LIFE OF AGONY's Keith Caputo; former KILLSWITCH ENGAGE singer Jesse Leach dueting with current vocalist Howard Jones for KSE's "My Last Serenade"; an assortment of frontmen handling vocals for staple songs like SLIPKNOT's "(Sic)" and "Surfacing", MACHINE HEAD's "Davidian", KING DIAMOND's "Abigail", SEPULTURA's "Refuse/Resist", TYPE O NEGATIVE's "Black No. 1", SOULFLY's "Eye For an Eye" as well as four songs from the "Roadrunner United: The All-Star Sessions" album. The double disc set also includes a 75-minute documentary, complete with interviews and behind-the-scenes footage, making it an even more intimate, fan-friendly experience!

A clip of Robb Flynn (MACHINE HEAD), Joey Jordison (SLIPKNOT), Corey Taylor (SLIPKNOT, STONE SOUR), Dino Cazares (FEAR FACTORY) and Roy Mayorga (STONE SOUR, ex-SOULFLY) discussing playing the SLIPKNOT song "Surfacing" at the "Roadrunner United" concert can be viewed below.

Surfacing (Slipknot) with Robb Flynn and Adam Duce

Source: Blabbermouth.net
TakeMyScars.com - A Place Dedicated to the Mighty Machine Head!